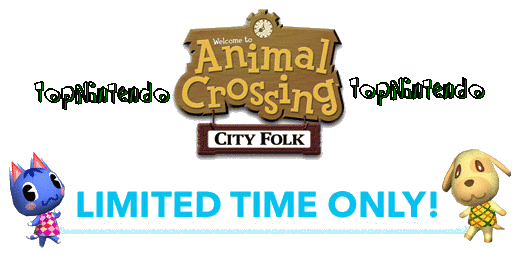 For a limited time only, you can get a letter from Nintendo with an item attached delivered to your town!
From July 20th - August 3rd
The next scheduled delivery celebrates the start of
school!
If you've received the Dolphin model once, you can purchase it from Tom Nook's catalog whenever you want.
Spoiler:

Turn on the WiiConnect24 settings on the Wii that's connected to the Internet.

Turn on the WiiConnect24 feature in the game.

For more details, check the below settings.



First, check your Wii System Settings
Spoiler:

Choose Wii Options from the Wii Menu.

Choose Wii Settings.

Choose the right arrow and go to Wii System Settings 2.

Choose WiiConnect24

*If your Parental Control Settings are turned on, you will have to enter your 4-digit PIN. For more information, check the Parental Controls section of the Wii Operations Manual.

Choose WiiConnect24 again

If it hasn't already been selected, choose On and then choose Confirm.
Spoiler:

Next, go to the phone in the attic of your house

Start Animal Crossing: City Folk, pick up the phone in your attic, and choose WiiConnect24.

Make sure that you've opted-in to WiiConnect24. If you haven't, choose to turn it on.
[/center]
Spoiler:

Things to be careful of...

At least one person living in your town must have completed their part-time job, gone to the city on the bus, and had a conversation with Rover.

•
Rover will only appear when the first player in your town heads into the city on the bus.


If your Parental Settings are set to \"Restrict online user-to-user communication and the exchange of the user generated content,\" you will be restricted from this service and will not receive the item.


Each Player can only download each item only once.


You cannot receive letters while you are out visiting a friend or while your gate is open. Please be careful.


You can receive letters even when the power on your Wii is off (in stand-by mode).

•
You can't receive items when your Wii is unplugged.


In some cases, it will take some time for the letter to be received.

Last edited by Yoshi on Thu Jul 30, 2009 11:53 am; edited 1 time in total
Global Moderator





Infractions

:


Posts

: 25


TopNintendo Points

: 17813


Reputation

: 0


Join date

: 2009-07-23


Age

: 21



This game seems REALLY, I'm going to investigate it!
_________________
Rules
|
User Introduction
|
TopNintendo Awards
|
Posting Games
|Curse Mark|
Administrator





Infractions

:


Posts

: 174


TopNintendo Points

: 18180


Reputation

: 0


Join date

: 2009-06-29


Age

: 21


Location

: 8-bit Australia



---
Permissions in this forum:
You
cannot
reply to topics in this forum